Image: By Justin Ormont (Own work) [CC BY-SA 3.0 (http://creativecommons.org/licenses/by-sa/3.0)]
Right-to-work laws returned to public discourse in February 2011 when Governor Scott Walker of Wisconsin proposed Act 10 to cut Wisconsin's budget. Act 10 was not itself a right-to-work law, but it contained many of the same ideas and goals such as restricting the collective bargaining power of unions. Act 10 shocked the country because Wisconsin had always been a union stronghold. It caused many to question whether Wisconsin could become the next right-to-work state.
Let's take a step back. What is right-to-work? Right-to-work is a state law that regulates agreements between businesses and labor unions. Specifically, a right-to-work law prohibits union shop agreements; these agreements  require all employees of that business to join or pay costs to offset representation expenses to the union.
For example, imagine you were a school teacher. If you worked in Minnesota, a non-right-to-work state, you would have to join the teachers union whether you wanted to or not. If you worked in Wisconsin, which passed right-to-work in 2015, you could choose whether or not to join the union, but the union would still represent you in negotiations.
Governor Walker's brief campaign for the Republican nomination for President and the recent U.S. Supreme Court decision on Friedrichs v. California Teachers Association brought national attention to labor unions and right-to-work laws.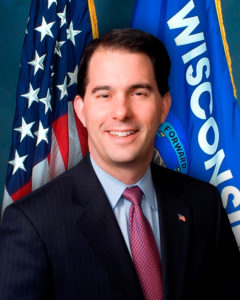 Right-to-work laws are not new. In order to fully understand them, we have to go back to 1935. The National Labor Relations Act (NLRA) of 1935 (also known as the Wagner Act) gave unprecedented levels of power to labor unions. It forbid employers from preventing employees from joining labor unions. Before the NLRA's passage, employers could fire or otherwise punish employees for unionizing. With the passage of the NLRA, the power balance between big labor (aligned with the Democratic Party) and big business (aligned with the Republican Party) shifted dramatically toward the unions.
In 1947, a Republican-controlled Congress overrode President Harry Truman's veto to pass the Taft-Hartley Act, which banned closed shop agreements and allowed states to ban union shop agreements. A closed shop agreement is an pact an employer makes with a labor union to only hire union members. By contrast, a union shop agreement is an agreement an employer makes with a labor union to require all employees to either join the union or pay fees to cover union representation costs after being hired. The statewide ban of union shops has become known as right-to-work.
The next big event in labor management history came in 1962 when President John F. Kennedy signed Executive Order 10988 giving public sector workers the right to collectively bargain and unionize. Before 1962, public sector workers at the federal level and in most states did not have collective bargaining rights because they were not covered under the NLRA.
In 1977, the constitutionality of President Kennedy's Executive Order faced its first significant challenge. Public school teachers in Detroit argued that the requirement of teachers to financially support an organization they did not believe in or agree with on political issues violated their First Amendment rights. The case,  Abood v. Detroit Board of Education, made it all the way to the U.S. Supreme Court. The Court ruled that employees of public sector unions could be required to pay fees to the unions to offset costs of representation, but not to cover the union's political activities.
Many people blame the recent trends of declining union membership and power on the actions of President Ronald Reagan in August 1981. In the first days of August of that year, over 13,000 members of the Professional Air Traffic Controllers Organization (PATCO) went on strike demanding better pay, a shorter work week, and better working conditions. President Reagan, in a controversial move, announced the the workers had 48 hours to return to work before they lost their jobs. Two days later, he fired and permanently replaced over 11,000.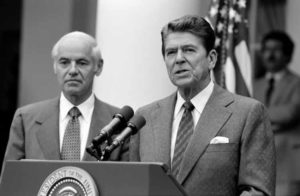 In 1985, Idaho became the 21st state to pass right-to-work, and right-to-work faded into the background. Between 1985 and 2011, only one state, Oklahoma, adopted  right-to-work. It wasn't until February 2011 that labor unions regained significant public attention.
In February 2011, tens of thousands of protesters descended on the State Capitol in Madison, Wisconsin, to voice their opposition to Act 10. Act 10 substantially limited the collective bargaining power of public sector workers. Such a law was shocking in Wisconsin, which in 1959 became the first state to allow public sector unions.
After February 2011, several states passed right-to-work. Indiana passed right-to-work in 2012. Michigan passed right-to-work in 2013. Wisconsin passed right-to-work in 2015. West Virginia passed right-to-work in 2016.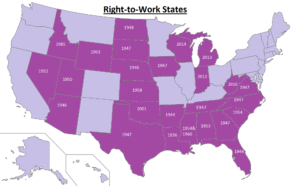 The latest challenge to union shops came when the U.S. Supreme Court heard a case known as Friedrichs V. California Teachers Association. This case challenged the 1977 ruling in the Abood case continuing to allow union shops; that is, the case  had the potential to impose right-to-work laws on all public sector workers in the country by banning union shop agreements in the public sector. In the months leading up to the Court's decision, many expected the U.S. Supreme Court  to side with Friedrichs, but shortly before the decision was made, U.S. Supreme Court Justice Antonin Scalia passed away. He was expected to be the swing vote in the case. On March 29, 2016, the U.S. Supreme Court tied 4-4, which was not enough to overturn the precedent set by the Abood case in 1977.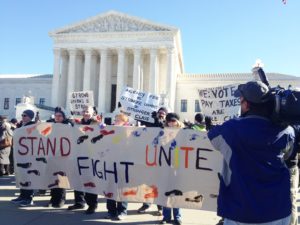 With the Supreme Court's recent ruling on the Friedrichs case, public-sector union shop agreements are safe in non-right-to-work states, at least until the next court challenge.. However, now that more than half of the states have passed right-to-work laws, states like Pennsylvania, Missouri, New Hampshire, and Kentucky wonder if they are next. The recent implementation of right-to-work in traditional union strongholds like Wisconsin, Michigan, and West Virginia proves that right-to-work can happen anywhere. The Minnesota Republican Party's platform supports right-to work, so it could even happen in Minnesota.